What sets ESPT apart from the other physical therapy clinics in Fremont?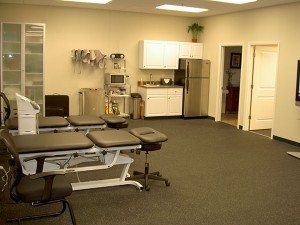 Two words: Expert Care. We have one of the few Board Certified Sports Specialists in the Bay Area leading the team, and we are committed to spending time with each one of our patients. By investing time with you, we can improve your outcomes and your recovery. You will never be double-booked with another patient at ESPT, so you will always have the attention of one of the members of our rehab team. By spending quality one-on-one time with our staff, you can be sure that you will get the most out of each and every physical therapy visit if you choose ESPT. Learn more about our method.
What is a Board Certified Specialist?
A certified specialist is a physical therapist that is recognized by the ABPTS (American Board of Physical Therapy Specialties) as possessing knowledge, skill, and experience exceeding that of their peers in general practice. There are seven recognized specialty areas in physical therapy: Cardiopulmonary, Clinical Electrophysiology, Geriatrics, Neurology, Orthopaedics, Pediatrics, and Sports. The physical therapist applying for certification must provide evidence that they have met the minimum eligibility requirements in order to sit for the certification exam. Once they are allowed to sit for the exam, the therapist must pass a rigorous 6-hour exam with approximately 200 items based on their specialty area.
Why should I see a Board Certified Specialist?
Studies and surveys have found that physicians and employers believe that certified specialists achieve more effective clinical outcomes and often manage patients with more complex conditions. The certified specialists were rated higher in both functional improvements achieved and patient satisfaction. They were more efficient in their treatments and were able to achieve their results in fewer visits for less estimated cost. Don't be shortchanged when it comes to your personal rehabilitation needs. Remember, you have access to and can choose to come to the best.
Who chooses which physical therapist I can go to?
Your doctor may recommend a therapist they have worked with or your insurance company may have some clinics that are in their network. Ultimately, the decision for who you choose for your physical therapist is up to you. Your physician can print our patient referral form, but we will accept referrals for physical therapy on any prescription form they sign. Most insurance companies also have benefits for providers that are out-of-network, so feel free to contact us for more details of your coverage.
Patient Referral Form
Pediatric Referral Form
Which insurances do you accept?
ESPT currently accepts all PPO insurances, Medicare, and auto insurance claims. We also accept patients on a cash-paying basis. Just because we are not on your insurance company's list of providers, that does not mean we will not accept your insurance. Please feel free to contact us for a more complete explanation of your particular plan.
For those opting to pay for services by cash, we have the following rates:
1-hour appointment with Board Certified Specialist: $150
1-hour appointment: $110
1/2-hour appointment with Board Certified Specialist: $90
1/2-hour appointment: $70
Do you only treat athletes at ESPT?
Although we have extensive experience working with athletes, ESPT provides orthopedic physical therapy toeveryone. Our vision is to bring to the general public the same level of medical care, personal service, and cutting edge equipment that many elite athletes have access to. If we can get athletes who are on a deadline better, in time to participate and compete in their sports, you can rest assured that you also will be getting the best care available to optimize your outcome. We hope to set the standard for physical therapy in Fremont and to become the premier provider for orthopedic and sports injury rehabilitation to patients of all ages.
What should I expect on my first appointment?
Please arrive 10-15 minutes early to fill out paperwork, unless you have already completed it ahead of time. Your appointment will take approximately 60-minutes to complete, and your physical therapist will perform a thorough examination to determine what can be addressed by physical therapy. A personalized treatment program will then be developed to help you reach your physical goals.
How does the insurance billing process work?
Unless you are paying cash, we will bill your insurance initially for the cost of physical therapy. You will be personally responsible for your co-pay at the time of your visit. After the insurance company receives our bill, they will issue you an EOB (Explanation of Benefits) and a check will be sent to us for all or a portion of our fees. Any amount not covered by your insurance, will be your responsibility and we will send you an invoice.
How do I pay for my visits?
If you owe a balance for your PT treatment, payment can be made with cash, a check, or credit card. Checks can be mailed to or dropped off at our office. Credit card payments will be accepted in person or over the phone. If you need assistance to pay your balance, we do have payment plans available. Please contact ESPT for details about these plans.