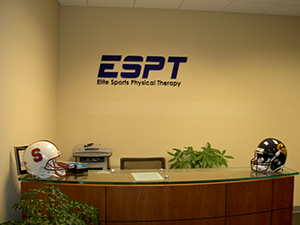 As ESPT, we believe that All Physical Therapy Is Not Created Equal. Successful outcomes are the result of time with your expert physical therapist. So, we take a hands-on approach with each and every person that walks through our doors. Just going through the motions may help you feel better temporarily, but it won't provide you the long-term results you need to get better and stay better. At Elite Sports PT, we treat everyone the way a professional athlete is treated. VIP status here is not just reserved for those special patients. It is available to everyone.
Based on the founder's experience working at some of the leading sports medicine facilities in the area, ESPT takes its core principles from those organizations. The goal of blending top-notch clinical care, state-of-the-art equipment and techniques, and first-class customer service is achieved, to provide an ideal setting for anyone to begin the road to recovery.
Our expert therapists understand that it's important for you to make progress at each and every visit. After all, if you were an athlete, that's what you would want. So, evidence-based practice is the name of the game at ESPT with treatments that are designed to your specific condition and needs. You are never left alone for extended periods to do exercises and you won't spend more time hooked up to machines than with your therapist. At ESPT, We don't just make you feel better, we help you get better!